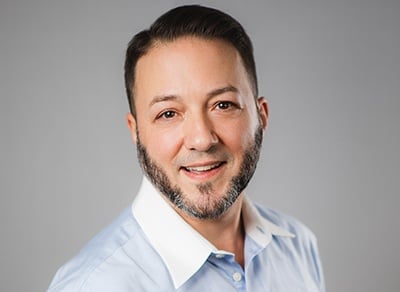 Topdown Named in Content Services Market Report
Forrester principal analyst Cheryl McKinnon included Topdown in the Now Tech: Content Platforms, Q3 2018 (Forrester Research, Inc., September 26, 2018) research report (paywall). The report was written for enterprise architects (EAs) looking for technology solutions to deliver content as part of a digital business initiative; or, that will be the central component of a cloud-focused strategy or enterprise content management modernization effort.
In the report, McKinnon defines the "content platform" technology category by segmenting the marketplace based upon market presence (read: revenue) and functionality. Subsequently, the report provides guidance to EAs for selecting a vendor.
Here are our big takeaways from the report.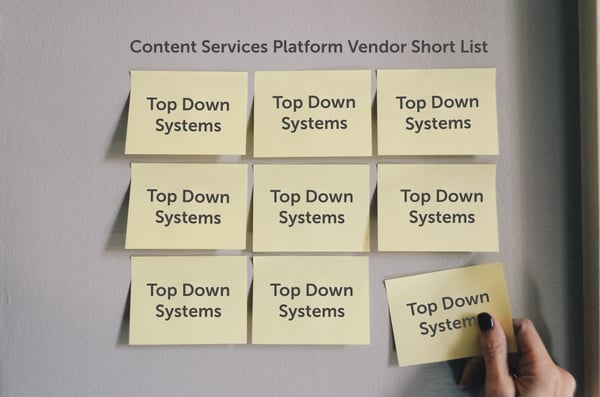 What is a Content Platform?
Cheryl McKinnon has been mapping the enterprise content management (ECM) market landscape for several years. In my view, her report suggests that the modern buyer of content management systems is searching for a new, cloud-friendly, and cohesive technology stack, looking beyond the proverbial made-over traditional ECM suite that's been bolted together from pre-existing products. McKinnon sees that ECM buyers are demanding more than simple document storage. They are focused on streamlining and automating broader content creation, collaboration, and review processes.
The Now Tech report's author offers the following definition of content platforms:
"A software platform architected specifically for the design, development, and delivery of document-, content-, or process-rich applications. Content platforms enable the decoupling of repository, application, and user interface layers, and reveal services and APIs for application creation and integration."
Content Platform Market Segments
Like longitude and latitude, McKinnon uses two degrees to segment the market.
The first degree is vendor revenue, which she equates to market presence. She assigns each vendor to one of three buckets: large ($100 million+), medium ($51-100 million), or small ($5-50 million). While aligning with a larger, traditional ECM may matter to some, McKinnon makes a very clear related recommendation:
"Short-list smaller, newer vendors when time-to-productivity is critical."
She further segments the market into another degree with four groups—each group a type of content platform having a slightly different mix of content services capabilities.
The collaborative content services platforms (CP-CCS) are geared towards two or more people creating, iterating, and distributing individual pieces of content.
Transactional content services platforms (CP-TCS) depend on integration and automation to produce relationship-oriented communications (claims communications, invoices, etc.).
Cloud content platforms (CCPs) are cloud-native solutions that offer content-oriented APIs and embeddable services in addition to or instead of end-user applications.
Content federation and integration services (CFIS) aggregate multiple repositories into a single logical view and provide one interface for search, metadata management, and other curation capabilities.
The report includes graphics for each segment with a clear weighting of the 15 core capabilities of content services platforms. Keep in mind, in some cases the covered products span two or more segments.
It's important to note that a given solution may fall into more than one group. For example, our INTOUCH SaaS product is listed in the report as a CP-TCS and a CCP. That's 100% correct: INTOUCH is a cloud-native, microservices-based SaaS solution that provides an out-of-the-box content services application for customer communications management (CP-TCS); and INTOUCH exposes the underlying microservices as APIs and webhooks (CCP).
Forrester's Recommendations
I won't steal Cheryl's thunder by detailing her recommendations verbatim. You really should read the report. That said, I will give my take on them, below.
I believe McKinnon can easily tell the difference between a "net new" solution and surgically-altered software. She smartly recommends that you look beyond the branding, and inquire with your content services vendor candidates to get details on their architectural underpinnings. We would also say that you understand how each vendor defines "cloud" -- do they mean managed services, a single-tenant solution, or multi-tenant SaaS? Don't get hoodwinked.
When it comes to using content services as building blocks for other applications, the report's author recommends looking closely at the available resources (tools, community, etc.) to gauge your comfort level. You may need to supplement the vendor's provisions.
And lastly, but most importantly, McKinnon advises readers to match the platform with their specific digital business priorities by focusing on platform segment strengths.
Our Take on Content Platforms Report
If you feel like the borders between customer communications management (CCM), enterprise content management, and other technologies are blurring, you're not alone. CCM and ECM continue to converge as the tectonic plates of the digital experience technology world shift. Intrepid enterprise architects and digital product owners can use this report from Forrester to chart a course to a modern customer engagement architecture.
We're ready to help get you there, so consider Topdown part of your crew.