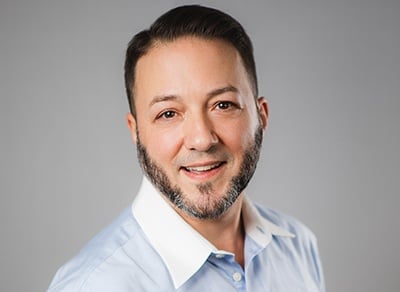 Digital Transformation Strategy: Extend, Embrace vs. Rip, Replace
What's your strategy for transitioning your enterprise digital experience (DX) architecture into the future? As technology evolves, do you plan to do a "rip and replace" — dump all your legacy software and replace it with the latest-and-greatest? Probably not. Given the size of your legacy architecture (~75% of the average IT budget), that's just not a practical or feasible approach for most organizations. It's disruptive, expensive and risky. Instead, forward-thinking IT leaders are taking the approach of "extend and embrace" — embracing new approaches and building out a parallel architecture while simultaneously extending the life of their legacy software by adapting and integrating it with new technologies whenever possible. The goal is to create a service layer that serves their business horizontally (across the enterprise) rather than vertically (in silos).
Steps Toward Digital Transformation
The innovators' approach to digital transformation takes place in stages and is ongoing. First, they work to remove friction from customer journeys by using content services to better feed systems of engagement and improve customer experiences, touchpoint by touchpoint. Many companies are currently in or approaching this stage.
The next step is to look at data as a source of value and use it across systems for consistency throughout customer journeys. Here's where forward-looking IT leaders are digitizing operations and beginning to integrate systems of engagement (touchpoints) with the rest of the enterprise architecture (particularly systems of insight like AI). They're also reorganizing to work more collaboratively with tech teams inside business groups and are adopting more agile development practices so they can iterate and improve their DX architectures as they plan, execute and adjust for customer needs and changes in technology.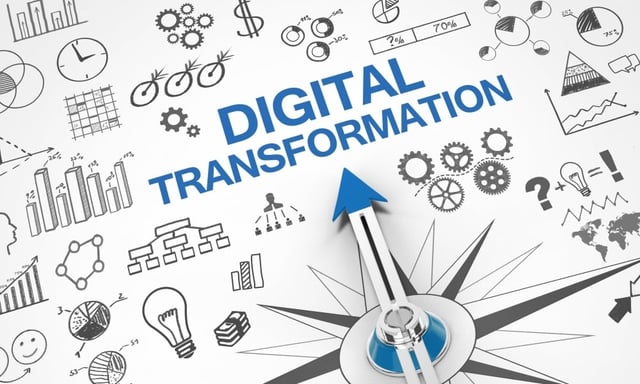 Those who have moved beyond that stage (or are ready to) are relatively rare. They're the pioneers in enterprise digital transformation, working at the leading edge to embrace the newest technologies and use them to solve problems. They're looking to go completely horizontal by unlocking value from the entire enterprise architecture. They treat technology as a business asset instead of just enabling tools. These innovators are looking to build capabilities using emerging tech so that they can be more responsive to customers' needs. The focus in this approach is on first achieving a minimum viable product (MVP) by testing, learning and adapting continually, just like in design thinking. To do this, they need more flexibility out of their architecture, including broadly applicable and integratable services and APIs for existing and potential apps.
API Management Key to Future-Readiness
Those organizations that are already at the point of true transformation for the future need tools that are cloud-based and built using microservices and containerization because they are taking raw, granular APIs from apps like INTOUCH®, and rolling those into reusable components that can be shared horizontally across the organization. API management becomes a central focus to extend the value of software components and stitch together new and old apps and platforms.
Choose Software Designed for Agility
To decide which available and emerging applications and platforms to choose moving forward, focus on options that increase your agility and speed of innovation. Innovative technology architects are beginning to adopt a series of microservices and containers that communicate with each other using APIs.
The INTOUCH API gateway and the APIs we're publishing through it are what these architects are looking for in this regard. We've made it so that each service works seamlessly within the INTOUCH architecture and can also be decoupled to work with other apps as well. And we've built INTOUCH so that if we don't already offer a content-oriented API, it's very easy for us to respond to that request and deliver it.
For example, in order to create a customer communication, there might be a half-dozen or more internal (private) APIs connecting to an order of magnitude more microservices in order to render a given piece of content for a given channel. Through our API gateway, we publish externally-facing (public) APIs. These APIs are more coarse than our private APIs, but are still granular enough for front-end developers to compose business-level APIs from them.
Accelerate Your Digital Transformation
If your organization needs content services and is out ahead of competitors in your digital transformation, INTOUCH is your ideal solution. It offers an out-of-the-box, business user-friendly app designed to immediately solve for specific customer communications management (CCM) use cases while also providing a future-proofed architecture built using microservices and containers for maximum extensibility. From talking with analyst firms, we're the only CCM vendor offering this; we've been told we're way out ahead of the curve.
Want to take your digital transformation to the next stage but not quite sure how to do it yet? We're excited about this, and we'd love to collaborate with you to see how INTOUCH can help you integrate and extend your DX technologies, so get in touch with us.
Image from smallbusiness.co.uk.
About John Zimmerer
John Zimmerer is the senior director of marketing at Topdown, where he leads market research and outreach efforts for the company's customer communications and customer experience products. Most recently, John has been researching and writing about the future direction of the technologies that power customer experience, and is regarded as a thought leader in this area. John has nearly 20 years of software product marketing experience. His areas of expertise include market research, analyst relations, public relations and digital marketing.