Forrester Overview of the CCM Market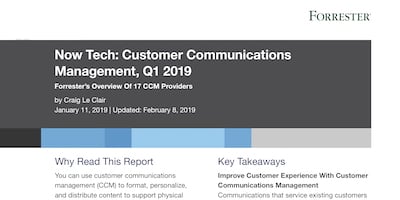 A report from Forrester, "Now Tech: Customer Communications Management, Q1 2019" (Forrester Research, Inc., January 11, 2019) cites Topdown as a future-oriented customer communications management vendor with a cloud-based Interactive CCM solution.
In this report, analyst Craig Le Clair declares that the future of CCM is in cloud-based Communications-as-a-Service (a.k.a., content services).
Read more about the CCM market in this article.
Gartner on Content Services Applications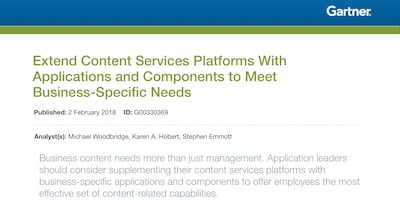 In a report entitled, "Extend Content Services Platforms With Applications and Components to Meet Business-Specific Needs" (Gartner, Inc., February 2, 2018), Gartner analyst Michael Woodbridge highlighted Topdown's INTOUCH software as one of two content services applications for customer communications management (CCM). As content services-based CCM software, INTOUCH provides a "best of both worlds" solution to present and future use cases.
Click here to read more about the bond between CCM and content services.
Forrester on Content Services Market
Forrester included Topdown in the Now Tech: Content Platforms, Q3 2018 (Forrester Research, Inc., September 26, 2018) research report, written for enterprise architects (EAs) looking to deliver content as part of a digital business initiative; or, that will be the central component of a cloud-focused strategy or enterprise content management modernization effort. Topdown was one of only three CCM vendors included.
This article should help narrow your search for a future-oriented CCM provider.