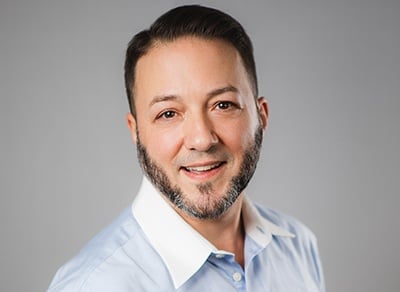 How Forrester Ranks Digital Experience Platforms
The Forrester Wave™: Digital Experience Platforms, Q3 2017 report came out recently, and we were extremely interested to see how things have changed since the last DX Platform Wave came out in 2015. Analysts Mark Grannan (@mwgrannan) and Ted Schadler (@TedSchadler) identified the 14 most significant DX platform providers and researched, analyzed, and scored them. They ranked Acquia, Adobe, BloomReach, Episerver, IBM, Liferay, Magento, OpenText, Oracle, Salesforce, SAP Hybris, SDL, Sitecore, and Sprinklr in a 28-criteria evaluation that showed Oracle leading "an evolving market with a balance of product and platform."
Digital Experience Platform Rankings
Here's how the 14 DX platform leaders they evaluated ranked: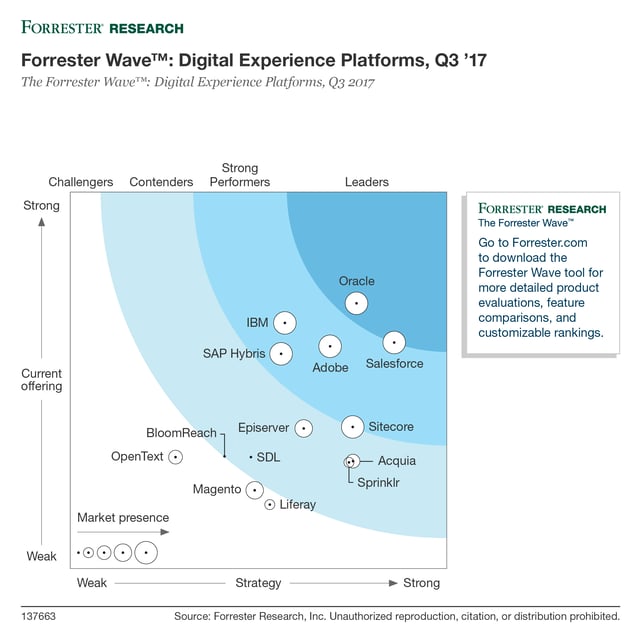 A few of Grannan and Schadler's key takeaways, excerpted from the report's executive summary, are:
Application Development and Delivery (AD&D) Pros Are Looking For Portfolio Breadth and Cohesion
The digital experience platform market matters because companies are looking to provide digital customer experiences across every step of a customer's journey. And that requires software that spans marketing, commerce, service, analytics, and more.
The Cloud, Integration, and Breadth Are Key Differentiators
We found dramatic differences in the number of touchpoints and steps in a customer's journey that each vendor can cover. We also found big differences in their embrace of cloud and the consistency of their content, data, and commercial terms.
We found it interesting that Forrester has started widening the definition of a DX platform by adding Magento and Sprinklr. We also took keen note of the fact that the need for easy integration with other tools, cloud adoption, and augmentation of the platform with best-of-breed niche solutions is now a key focal point in the industry, like we've been predicting for some time now.
The CCM POV
From our point of view as a customer communications management (CCM) software vendor, the main takeaway from this report is that almost all of DX platforms are still weak in the Service category while they continue to expand and strengthen their Marketing and Commerce offerings. This edition of the DX Platform Wave appears once again to be a useful tool for helping you choose the best foundational platform on which to build out your comprehensive customer experience architecture. However, you're still probably going to need to buy a cloud-based, easily-integrated yet powerful CCM solution like INTOUCH® to supplement whichever DX platform you adopt.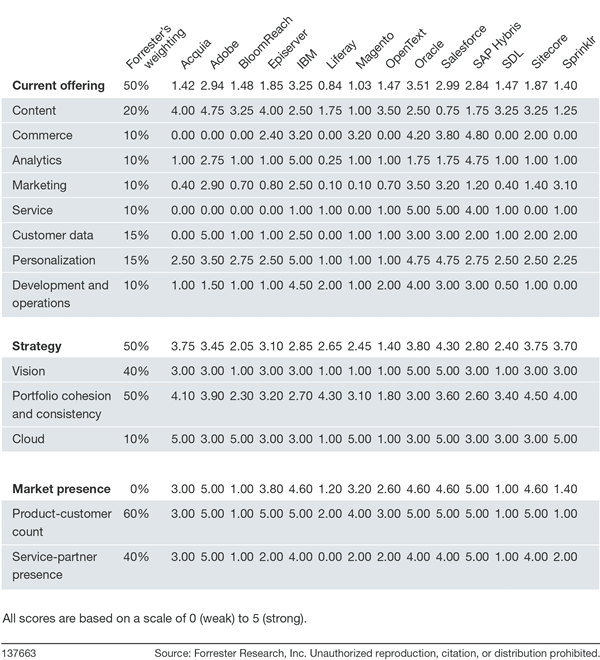 Forrester sees vendor evolution following three patterns:
Enterprise cloud's acquisitions aim to support the entire customer journey.

Product-heritage suites want to be a one-stop shop across a digital subjourney.

Microsuites take on these problems with new approaches.
At Topdown, we're positioning our solutions to be able to integrate easily with all of the above via open standards and APIs. The Forrester analysts indicate that, though the cloud and microservice architectures are among the forces and trends that digital leaders will have to embrace, it'll still be some time before these DX platform leaders are able to fully integrate their own offerings with each other, much less make it easy to integrate with third-party applications. But with INTOUCH, we're already there, waiting for them to catch up.
Next Steps
Check out the new DX platform Wave for all the details about how Grannan and Schadler selected and evaluated the 14 DX platform providers included in the report and what they expect from this industry in the future.
We'll be delving more deeply into the findings and implications of this report and other industry reports in future blog posts. Don't miss out — subscribe to our blog to get updates on our latest articles.