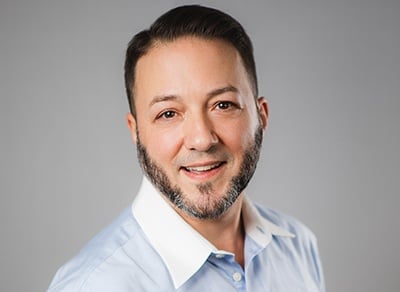 The Ins and Outs of the Customer Life Cycle
We've been posting quite a bit lately about the importance of providing integrated, consistent, and personalized customer communications across multiple channels throughout the customer journey. Let's take a deeper dive and look at each stage of the entire customer life cycle in a bit more detail, paying particular attention to why each piece is important, and how you can meet your customers most effectively in that stage of their relationship with your company.
First, let's back up and define what we mean by "customer life cycle," "customer journey," and "customer experience."
Customer life cycle has to do with where a given customer or potential customer is in their overall relationship with a company and its products or services, from before they are customers through their entire lifetime as a customer.
Customer journey refers to the series of engagements a given customer, current or prospective, has with a given company, via one or more touchpoints (e.g., website, IVR system, customer service agent, correspondence, etc.), in order to accomplish a goal or objective, such as filing a claim, asking a question, or buying something.
Customer experience (CX) is how the customer feels and what he or she does as a result of the sum of those touchpoint engagements in the customer journey. How does the experience affect retention (will they stay a customer), enrichment (will they buy more), and/or advocacy (likelihood they recommend the company to others)?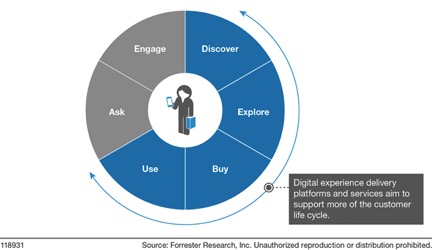 This illustration shows the customer life cycle. Notice that it is portrayed as a cycle, not a linear progression. This is because, ideally, there should be no end-point for the customer. We don't want them to feel as if they've gone as far as they can go with the brand and move on. We want to continue offering customers reasons to re-engage with the brand, remain loyal, and spread the word. This is the main reason you need to look at the entire customer life cycle when planning your digital experience delivery (DXD). This will require balancing your resources, including people, processes, and technology, within your organization.
Discover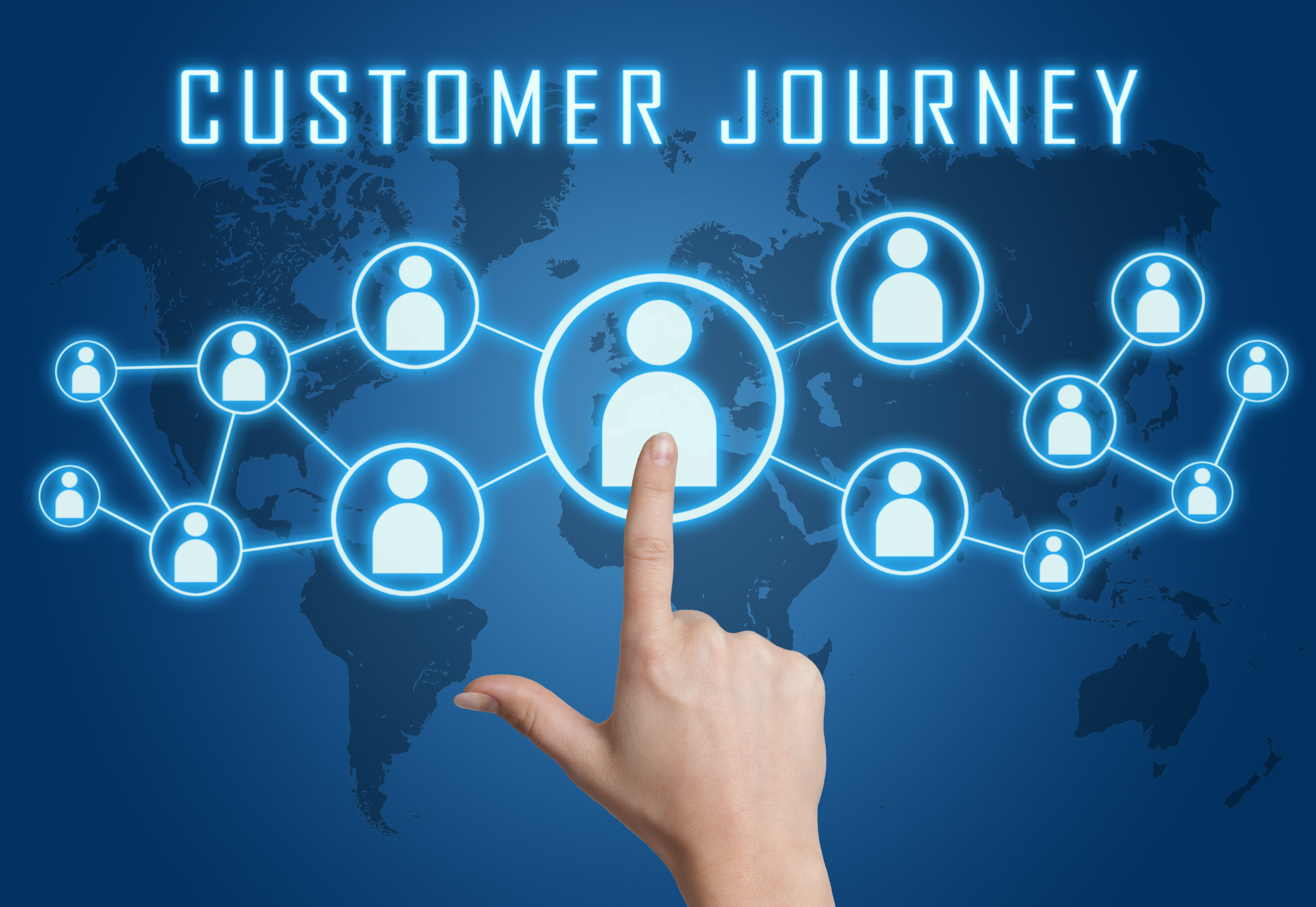 Most companies will devote people and technology resources to helping consumers discover their products and services. This is where we tend to spend lots of time and money on print and digital advertising, marketing content, SEO, microsites, social media, analytics, and more. The software suites devoted to lead generation, marketing automation, content development, and advertising campaigns are consequently among the most robust business applications on the market.
Obviously, brands have to invest in getting consumers' attention, but sometimes companies invest too heavily in just the discovery stage of the customer life cycle and fail to sufficiently invest in the parts of the journey pertaining to retention, loyalty, and satisfaction. It will do you little good to acquire many new customers if you don't have the capability or willingness to engage and retain them after they have purchased your goods or services.
Explore
So you've gotten a consumer's attention. They've opened a brochure or email, clicked on a landing page CTA, or seen a friend share your content on Facebook. Make sure there's something interesting to see when they get there, and a way for them to interact with you.
This is where a web content management system (WCM) that includes multi-channel capabilities and software integrations can provide multiple touchpoints and really help your employees meet customers where they are while personalizing their interactions with them. Here is where content marketing, social channels, and human interaction really shine. If you can give potential customers valuable information, entertainment, the opportunity to provide input, to ask questions, share content, and otherwise engage with you while they are exploring your brand, what it stands for, and what you sell, you can bring them more smoothly into the next stage of the customer life cycle: buying.
Buy
Getting customers to make a purchase is the end goal for many companies. Again, the technology that makes purchasing goods and services smooth and easy does exist. You definitely don't want that transaction to be problematic in any way. You need a solid ordering system, sales team at the ready, and processes in place to get the order fulfilled quickly and accurately.
Don't make the mistake of stopping here, though. Ignoring customers after they've handed over their money is the fastest path to losing market share. Why should they stick around with an unresponsive, uncaring company when there are companies with better customer support and greater ongoing value? Word-of-mouth marketing and reputation management have become critical elements in transitioning past the "buy" stage and getting people to actually use and talk positively about your products. You have to continue providing value and communicating beyond the purchase to keep customers engaged, loyal, and satisfied.
To do this, offer customers multiple ways of communicating with you and with their peers about their purchase. Social sharing mechanisms, live chats, loyalty/reward applications, extended offers, and partner programs can all contribute to enhancing and extending engagement during the "buy" stage of the customer journey.
Use
Here is where document output for customer communication management (CCM) typically lives. Depending on the nature of your business, those letters you have to generate to make sure customers are properly informed – from privacy policies to maintenance offers to renewal letters and more – can run into the millions. You can really make a difference in the ongoing customer experience by being able to generate personalized, relevant communications across multiple channels while tying into other parts of the customer journey to increase engagement. This requires alignment of people, processes, and technology. The right technology will enable better alignment of people and processes.
Look at every letter or email or social media interaction or call as an opportunity to build a positive relationship with your customers. To do this, make sure you have engaged, well-trained employees with access to the proper CCM software – ideally, software that is integrated into your customer experience management platform – to generate automated yet personalized correspondence that adds value to the customer experience. This would be much easier if CCM systems were based on web content management (WCM) systems, as CX platforms often are. Unfortunately, CCM software that integrates with a WCM system does not yet exist, but it is certainly on the horizon.
Use your correspondence to invite existing customers to avail themselves of self-service resources such as online how-to guides, self-service forms, customer portals, how-to videos, and perhaps partner portals as well.
Ask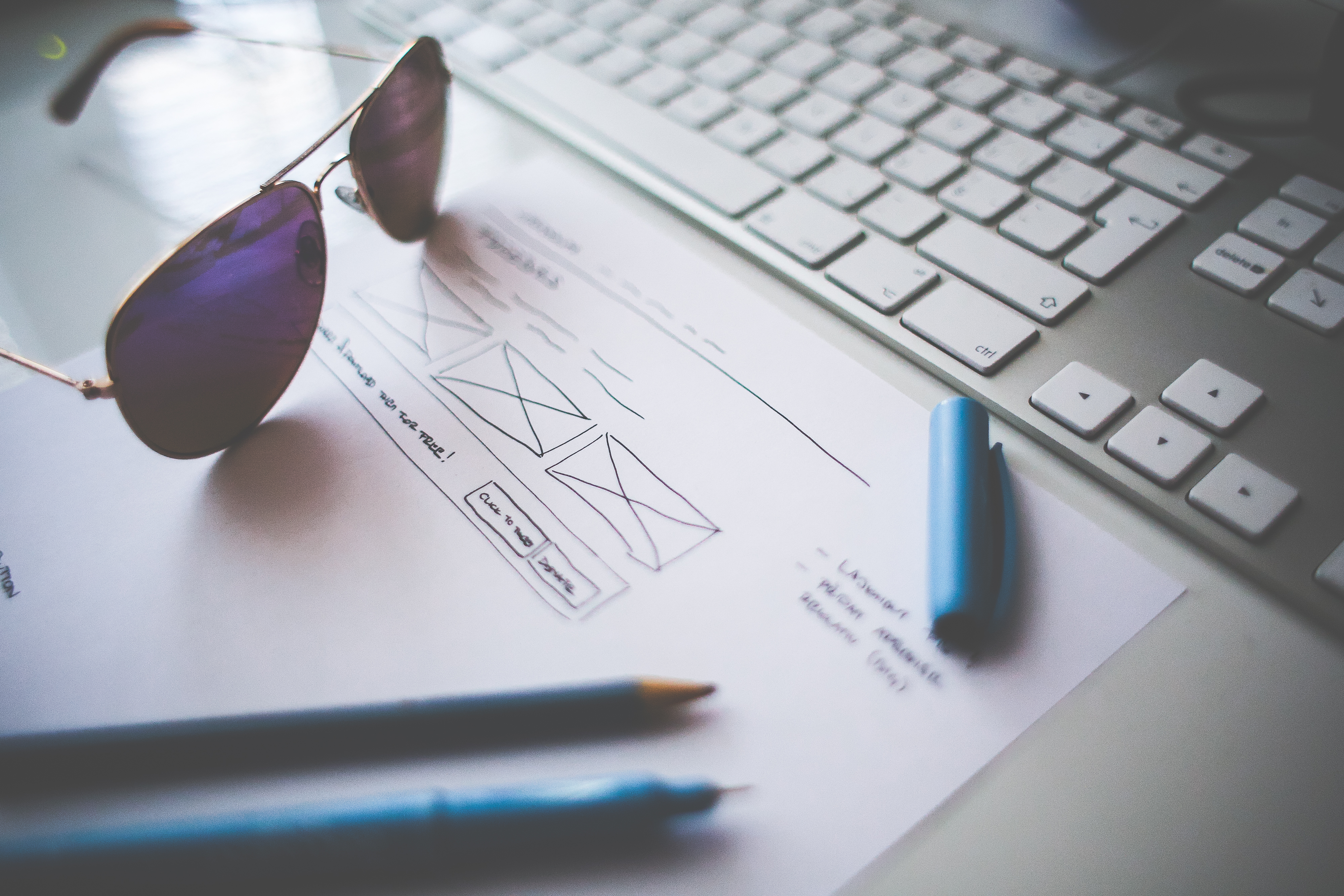 You can't just push content at customers, though. You have to give them the ability to reach you easily, via their preferred communication channels, and feel welcome and appreciated. This requires alignment of people and technology. During this stage of the customer journey, you can use your WCM system to provide educational or entertainment content, self-service portals, employee knowledge-sharing portals, service request forms, communities, and live chat. You should also offer customer service representatives valuable insights into what's going on in other parts of the customer journey so they can address customers' concerns quickly, accurately and consistently.
It's a given that if customers get the impression that your company is hard to reach, unresponsive or rude, they will look elsewhere. Similarly, if they don't feel like your employees understand their needs or care about them as individuals, they are likely to move on – and worse, they will probably say uncomplimentary things about you to others. Consumers rely heavily on other customers' opinions of a brand's customer service when making purchasing decisions. Give them reasons and means to spread the positive word about you.
Engage
This is the payoff stage for both your customers and your brand. Effective customer engagement can reduce your need to invest so heavily in discovery and exploration because engaged customers stay with you and tell others about you as well. Good customer service is the best marketing.
Here you can enhance customer engagement with continued great CCM along with customer reviews and stories, loyalty rewards, social media interactions, and more. Again, always ensure that your customers' experience is a two-way conversation.
CCM that is integrated with your digital customer experience platform can help you achieve the level of interactivity and accessibility you need to be competitive in today's omni-channel digital experience environment. Ideally, one person or group with a view of the entire customer life cycle can help manage the allocation, alignment, and communication among the people, processes, and technology involved in serving customers at the many touchpoints along their journeys with you.
The Main Takeaway
The days of one-way push marketing are long over. You really do have to have a two-way conversation with customers every step of the way now. Yes, the buzzwords are annoyingly prevalent – digital experience delivery, content marketing, personalization, brand ambassadors, etc. – but the truth is that if your business isn't doing all it can to build relationships and have strong communications with each customer throughout the life of their relationship with you, you risk losing revenue and market share. Period.
About John Zimmerer
John Zimmerer is the senior director of marketing at Topdown, where he leads market research and outreach efforts for the company's customer communications and customer experience products. Most recently, John has been researching and writing about the future direction of the technologies that power customer experience, and is regarded as a thought leader in this area. John has nearly 20 years of software product marketing experience. His areas of expertise include market research, analyst relations, public relations and digital marketing.