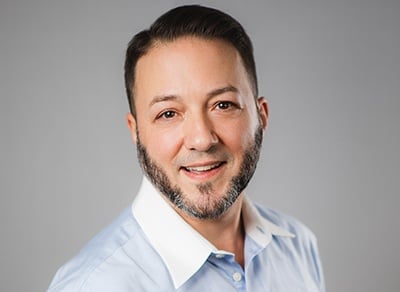 Instead of Martech, Think "Engagetech"
Martech is out of control. There's just way too much out there now to feel like you can effectively understand your options and evaluate the best technology purchases for your organization. The best illustration of how crazy the martech marketplace has gotten remains Scott Brinker's Marketing Technology Landscape Supergraphic, the 2017 version of which shows a mind-boggling 5,381 solutions spread across six categories.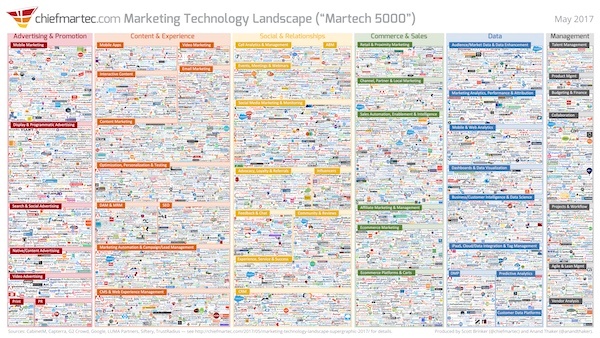 The truth is, even if your organization has invested in one or more of the big marketing software suites like Salesforce or Oracle or IBM, you are very likely going to need to purchase supplementary solutions in some or all of the six categories Brinker identifies in the martech landscape to solve specific business problems and bridge gaps in functionality or integration. It's kind of overwhelming, isn't it?
Here's the worse news, though: That's just marketing! It doesn't even include the equally dense thicket of technology options out there for other kinds of customer engagement, most notably customer service. And, the pieces of your digital customer experience are likely operating completely separately, out of many different departments, siloed from each other and probably duplicating functionality while creating a disjointed and inconsistent customer experience.
Still Stuck in Silos
Don't worry, though. It's not just you. Almost everyone is falling into this trap of looking at technologies from somewhat narrow points of view. Vendors are focused on solving very specific problems or trying to offer the biggest suites of (often poorly integrated) applications they can. And even the big software suites are ignoring chunks of the customer lifecycle by focusing most heavily on one of the three main categories of Marketing, Service or Commerce, leaving gaps you have to fill on your end.
Moreover, industry analyst firms like Forrester and Gartner inadvertently perpetuate this narrow thinking by evaluating and ranking software in narrow categories defined by purpose. Their reports, while invaluable, are researched, written and produced by teams of specialists who work within their categories of expertise and don't often read each other's reports or worry about how the solutions they're evaluating will integrate with other parts of the customer engagement architecture.
Customer Engagement Doesn't Stop with Marketing
Customer engagement happens across the entirety of a customer's lifecycle with your brand. It's every time they interact with you — every touchpoint, every channel, every reason. So you have to look at any and all technologies involved in customer interactions as part of one big customer engagement architecture that has the same goal: a consistent, effective, easy and enjoyable customer experience.
So you may need one or more customer engagement platforms, PLUS a variety of best-in-breed point solutions from multiple categories within the marketing, commerce and service technology landscapes. The real problem begins when you have to sew those solutions together into a unified customer engagement architecture. It is a rare vendor that looks beyond their own solution and niche to think about how their software will have to be integrated into that broader architecture.
The customer engagement architecture of the future — the one you need to start building now — will be a holistic architecture. Narrow down that crowded tech landscape by finding pieces that will play nicely together. Look for commonalities in integration methods, data formats, content sharing, etc. to bridge all your solutions together.
Think 'Engagetech'
So what we're saying — to buyers, vendors and even analysts — is to think bigger. Realize that what you're looking for is much broader than martech (or servicetech or ecommerce tech), it's "engagetech." If a solution doesn't look beyond its niche purpose to how it works as a piece of the entire lifetime engagement with the customer, it's just going to be another silo in a sea of silos. Or to say it differently, such software will move quickly into the "legacy" bucket. Moving forward, seek out solutions that are designed to be part of a larger, harmonious, customer-centric ecosystem.
Want to discuss your ideas for building out a unified customer engagement architecture with other customer experience, IT, marketing, ecommerce and customer service professionals? Join us in the CX Architects LinkedIn group.
About John Zimmerer
John Zimmerer is the senior director of marketing at Topdown, where he leads market research and outreach efforts for the company's customer communications and customer experience products. Most recently, John has been researching and writing about the future direction of the technologies that power customer experience, and is regarded as a thought leader in this area. John has nearly 20 years of software product marketing experience. His areas of expertise include market research, analyst relations, public relations and digital marketing.