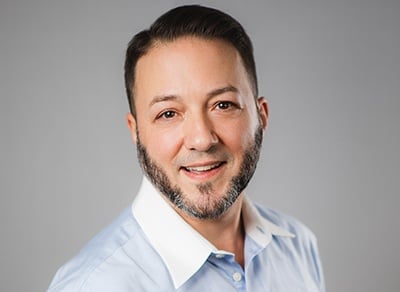 Taking a Walk in Your Customer's Shoes (Part 1): Examining a Typical Customer Journey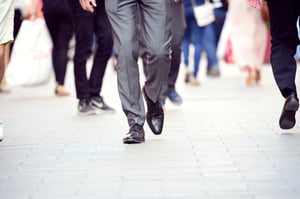 In order to deliver exceptional customer experience (CX), you have to be able to look at things from a customer's point of view. This helps you anticipate, meet and exceed their needs and expectations. To do this, imagine that you are one of your own customers and walk through a typical customer journey with your brand, pausing to examine and evaluate each touchpoint along the way. Periodically ask yourself if you would continue to do business with your company if you were one of its customers.
Let's take a look at a hypothetical example and walk through some of the experiences a typical customer of, say, a health insurance company might have. For your reference, here's a representation of the customer life cycle and the various channels you might use to communicate with customers.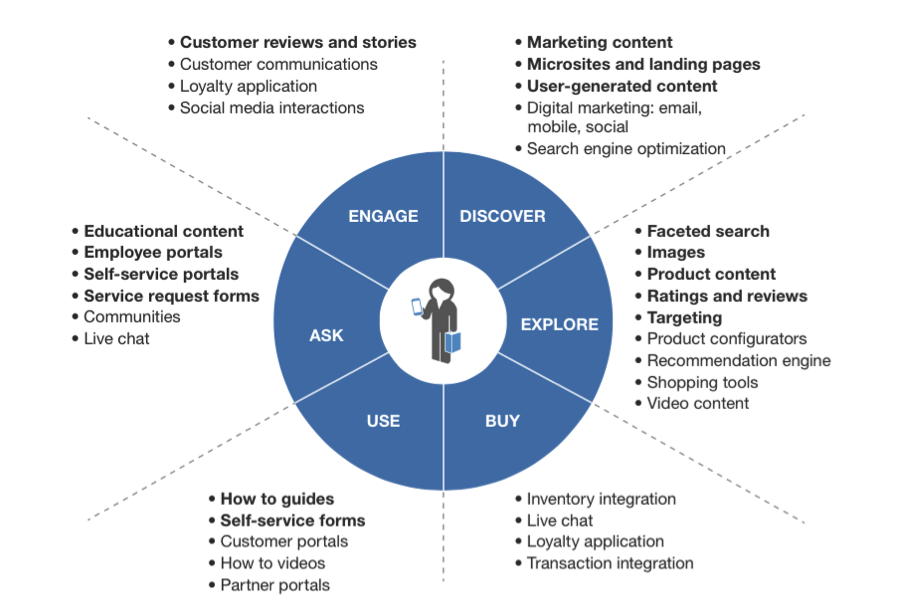 A Typical Journey as Seen through a Customer's Eyes
You're a regular middle class American citizen. You recently left a job that provided you and your family's health insurance coverage, and now you'll be working for a much smaller company that does not. You're required by law to purchase health insurance, but you would do so anyway since you have a spouse and children to consider.
Discovering the Brand
You begin to shop around. You visit Healthcare.gov to learn about exchange options in your state. Unsatisfied with your options there, you ask your friends and family on social media what insurance plans they have and how they feel about them. Your social media feed and the web sites you visit immediately begin to display targeted ads for health insurance.
While you gather your friends' input, you do a search for health insurers. The search engine offers you several sponsored links to top insurers. You click one you recognize and land on a beautifully-designed web page welcoming you and encouraging you to learn more.
Exploring the Options
A live chat invitation pops open, offering you immediate assistance from an actual human being, who is standing by to guide you through the plan selection and signup process. You don't want to web chat right now; that's okay. The page offers you multiple ways to contact the company's sales department—by phone, fax, snail-mail, email, social media, and more.
But you aren't ready to make direct contact – you're still just getting an idea of what the different companies offer. That's fine, too. There is plenty for you to explore independently on the insurer's web site to learn about how big and stable the company is, explore the various plans it offers, read customer testimonials, and more. There's even an interactive questionnaire – a recommendation engine – that will help you select the right plan for you and your family's budget and healthcare needs. They're really knocking your socks off, and though you visit a couple of other insurers' sites, you come back to this one, ready to make a purchase.
Buying a Product
The purchasing process is remarkably easy. You opt to fill in a web form to get started, since it's now 2:00 a.m. A company representative gets back to you promptly the next morning, and you and your family have health insurance coverage. It's been a lovely experience so far.
Using the Service
You had hoped to buy your health insurance coverage and never need it. Unfortunately, within a few weeks of your purchase, one of your children gets acute appendicitis followed by emergency surgery. At this point, you've received a packet in the mail welcoming you to your new health insurance plan and explaining what your coverage includes, listing physicians in your area that are in-network, instructing you how to make claims, and more. The emergency room, hospital, surgeon, and anesthesiologist are all in-network and will file claims with your insurance company for you. Fantastic! However, the urgent care clinic you visited first was not in-network, so you will have to file a claim for reimbursement. Your welcome packet encourages you to go to the online customer portal to do this.
You haven't visited the company's web site since you bought your health insurance. You are surprised to find that the customer portal is old-fashioned looking, clunky and difficult to navigate. The marketing landing page you visited before was so slick and modern and user-friendly! It hardly looks like the same company at all.
Asking Questions
You click around in the customer portal but can't figure out how to make your claim. No chat window pops up with live assistance this time. There doesn't seem to be a site-based search field or help menu. It takes several clicks to get to the company's customer service contact information – they appear to be trying to keep you from contacting them directly if at all possible. You begin to get irritated. You don't have time for this. Your child is recovering from surgery, and you just need to get this done and get back to her.

You find a phone number and call customer service. You navigate an interactive voice response (IVR) menu, which requires an inordinate number of choices, and then you sit on hold, listening to 80s music, for a good 30 minutes or more before a customer service representative (CSR) answers. They take notes while you explain what you need. Oops – they can't help you. You were supposed to call the number for the claims department, which the CSR now provides while offering to transfer you. They attempt to transfer you to Claims, but the call is dropped for no apparent reason. Good thing they gave you the number before attempting the transfer. You dial it now, navigate another IVR menu, and wait on hold for another 15 minutes before a claims representative answers. This person seems to have no idea what you've already explained to the CSR just a few minutes ago and makes you go through it all again. The rep decides to file your claim for you over the phone, asking for the relevant information and filling in a form on your behalf. Finally, it's done.
Except it's not. How will you know the status of your claim? When will you receive your reimbursement? The rep says you'll receive letters in the mail keeping you apprised. He thinks. He's pretty sure. You ask if you can receive a message via SMS to notify you when your check has been issued. They don't do that. How about email? Nope. Fine. You'll wait for a letter and perhaps try checking the customer portal from time to time.
Seven to ten days later, you receive a letter. But it's another form to fill out. They need more information to adjudicate your claim. You thought you gave them this information already. Oh, wait – there's another envelope from the insurer. Nope, it's just a statement of claim. The next day you get a third envelope, but you don't even understand what you're looking at when you open it. You're now thoroughly confused. What was all that you did on the phone? Is your claim being processed or not? Will you ever be reimbursed?
At this point you're furious at how difficult it is to get what should be a simple and common task done with this company. You're paying a lot of your hard-earned money each month for coverage; you expect their customer service to be at least as good as their marketing was. You feel like the victim of a bait-and-switch scheme.
Engaging with the Brand and Others
You'd better believe this customer is going to engage with the brand after this experience, but not in the way the company would like. This customer is highly likely to send written complaints to the company, publish negative reviews online, and steer friends and family away from the brand in personal conversations and on every social media channel. This customer is also highly likely to go looking for a different insurer when the next enrollment period rolls around.
Would You Do Business with Your Company?
This whole scenario is unfortunately very, very common. The steep dropoff in positive CX between the acquisition (marketing/sales) side of many companies' operations and the customer service and retention side can be precipitous – and calamitous to the company's bottom line.
Does your CX bear some resemblance to this typical customer's experience? If so, read part two. We have some suggested improvements based on the results of the study we commissioned through Forrester Consulting earlier this year.
About John Zimmerer
John Zimmerer is the senior director of marketing at Topdown, where he leads market research and outreach efforts for the company's customer communications and customer experience products. Most recently, John has been researching and writing about the future direction of the technologies that power customer experience, and is regarded as a thought leader in this area. John has nearly 20 years of software product marketing experience. His areas of expertise include market research, analyst relations, public relations and digital marketing.