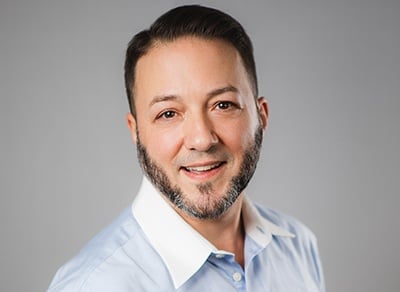 Automation in Digital Experience Delivery vs. Customer Communications Management
Respondents to the study we commissioned with Forrester Consulting identified automation of customer-facing communications as one of the main customer experience management (CXM)-related business goals that they find particularly challenging. One of the reasons it's difficult to achieve comparable levels of automation in customer-facing communications throughout the customer life cycle is, once again, a disparity between the processes and technologies used on the customer acquisition side of the organization (marketing and sales) versus the customer service and retention side of the organization.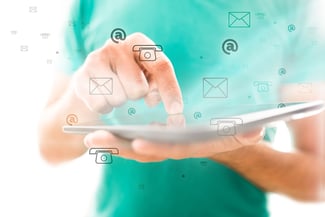 The ability to automate communications that are still highly personalized, properly branded, relevant and timely at any and all customer touchpoints and via multiple channels will become more and more crucial to companies' ability to compete in the modern digital marketplace. To understand how to achieve consistent, high quality automation of all your customer-facing communications, you need to think about automation the way we do in customer communications management (CCM). We look at it in layers, where each layer of automation is defined by the processes it involves and the business value(s) it represents, and the layers expand out from the core functions of CCM document automation.
Three Layers of Automation
Layer One: Partially Automating CCM
At the center of customer-facing communications automation is the CCM software solution. Ideally, the organization will have everything it needs to create complex, personalized communications on a massive scale, all managed seamlessly and cost-effectively by the CCM system.
Since you probably won't have everything you need all in one place and consistently available to your CCM software, at some point you'll need human interaction. The human input could be from a customer service representative creating a communication while on the phone with a customer, or it could be input from customers themselves, e.g., when interacting with your IVR or web portal. APIs enable automating as much as possible, with manual input by humans only as needed.
Layer Two: Fully Automating CCM
With data integration and using the CCM system's APIs, it is possible to link your CCM solution directly to other business applications, such as a CRM system or a claims application system or a policy administration system. This brings two worlds of creating data and using data together, saving time and effort across business functions and customer touchpoints.If you have access to data sources throughout the organization, plus web services, digital assets, and business logic, you will have the means to save significant "clicks and ticks" (effort and time).
A perfect example of an organization accomplishing this level of automation particularly well is one of Topdown's CLIENT LETTER® customers, a major healthcare payer. This company has been able to integrate all the different data sources they have (there are seven, in this case) and combine them with Topdown's business logic and APIs to fully automate the creation of tens of millions of highly personalized communications. They do this with just four employees, thereby saving the organization millions of dollars annually.
Layer Three: Process Automation
Today, it's possible for one user to begin a communication within the CCM system, save it in progress, and hand it off internally for review or approval. Also, many types of communications require input from multiple stakeholders; marketing may need to contribute to and sign off on branding components within communications, or the compliance department may need to review and approve legal language and disclaimers. Most CCM systems have a way to include those "indirect users" in the internal CCM workflow.
Using APIs, it is also possible today to include external systems in CCM workflows to automate processes organization-wide. The CCM system is then one step in a larger business process. But this requires application-specific integrations. It would be far better if the CCM system used – or at least could communicate with – an external business process management (BPM) tool.
Using open standards-based business process management (BPM) software would provide a common denominator that would allow you to expand the number and variety of users who can participate in the workflow. In such a system, you could add subroutines to the automated process as needed to generate the right communications, for the right people, at the right time, through the right channels, every time – all through fully automated and highly efficient workflow process management capabilities.
Process automation is something the respondents to the study we commissioned through Forrester Consulting specifically said they wanted. Businesses want to break down organizational silos from a process standpoint. They want CCM technology that can solve the process piece of the equation. We're working on that for you.
The Business Value of Automation
It's important to note that each layer of automation we've outlined above serves slightly different business values. At layer one, all we care about is automating a single communication for a single individual. The business values at this level are primarily cost savings and operational efficiency.
At layer two, it's not just about saving money by compressing the steps of creating individual communications, now it's about savings realized from, say, avoiding lawsuits, or value gained from maintaining brand consistency and quality, or other examples of "soft" ROI.
At layer three, in the larger context of overall business processes, we are finally addressing the broader customer experience (CX). Now we're looking at all the elements that contribute to an individual customer receiving an individual communication at a particular touchpoint. But at this level, we can multiply that individual experience by all the customers receiving communications at all touchpoints to gain insights about CX in general and to inform decision making all the way around the customer life cycle. Here's where you can see an increase in customer satisfaction, loyalty and lifetime value – the real payoffs for your brand and business.
About John Zimmerer
John Zimmerer is the senior director of marketing at Topdown, where he leads market research and outreach efforts for the company's customer communications and customer experience products. Most recently, John has been researching and writing about the future direction of the technologies that power customer experience, and is regarded as a thought leader in this area. John has nearly 20 years of software product marketing experience. His areas of expertise include market research, analyst relations, public relations and digital marketing.