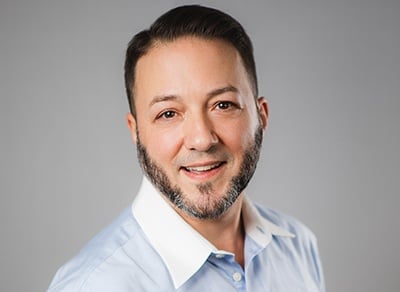 Customer Journey Mapping Example: A Financial Services Portal
You can identify and address customer experience (CX) gaps by mapping out critical customer journeys to see what works and what doesn't from the customer's point of view. To do this, you need to take a close look at very specific customer/company interactions, starting with the ones that most directly impact your business objectives and/or potentially contribute to customer experience gaps that lead to customer attrition.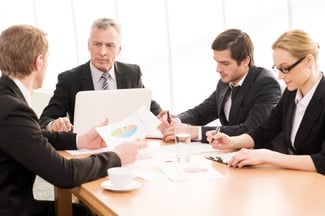 Remember, the key to getting the most out of a journey mapping exercise is to look at the experience from the customer's point of view. It's easy to slip into looking at it from the organization's perspective, but that's not what you need right now. You need to know how it feels to be your customer so you can identify points of frustration, friction and negative emotion as well as touchpoints with the potential to delight.
Last week we mapped out one common critical journey, filing an auto claim. Now let's take a look at another common example: using a financial services portal.
If you have a 401(k) account, your financial services company probably offers a customer web portal. You can log into that portal to check your account balance and make changes to your investment strategy, among other things. For customers of a financial services company, this is an extremely common journey. Therefore, it is also a critical journey because of sheer volume; most of the company's customers will check or make changes to their 401(k) accounts via the customer web portal at some point in time – perhaps quite frequently. So let's map out what that journey might look like for one customer trying to make a change to his 401(k).
Put Yourself in the Customer's Shoes
You're a married 47-year-old father of three who has been with your company for over 15 years. You feel fortunate that your company offers a generous benefits package, and you've had the opportunity to contribute to a 401(k) investment account for your retirement. You know you must have a lot in it by now, but you haven't really looked at it in years. However, you read an article in the news this morning about how people in your age group are woefully under-prepared for retirement, and many aren't even aware of how much they have in their retirement accounts or how much it will take to retire comfortably. You feel uneasy and even a little scared as you realize you're in that category. You decide to log into your financial services portal to take a look right now.
As a representative of the financial services company, can you empathize with this customer? He's a smart, gainfully employed family man who has another two decades or more of working life ahead of him before he will retire. Because of this, he's not really thinking about his golden years yet, and he's grown a little complacent about preparing for retirement as a result. It's normal for a guy like him to suddenly become very concerned about the future and want to take a stronger hand in his financial planning.
Back to the customer's experience:
You're embarrassed to realize you're not totally certain what your financial services company is called. You spend some time looking for your latest benefits information packet, but you have no idea where you put it. You're not about to ask a coworker and admit that you have no idea who is holding tens of thousands of dollars of your money in an account somewhere. You search your email archives and find a note from your company's HR department with a handy link to the portal. Aha! Success.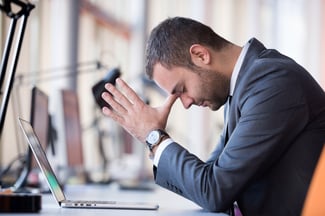 You go to the site, where you find a fairly straightforward, not-terrible but not-great main page. You are struck by how old-fashioned (in web terms) the site looks. You notice it's not responsive as you try unsuccessfully to look at the entire page on your tablet, so you switch to your desktop computer and expand it to fill your screen. It amuses you to see a large swath of empty white space form – that's unusual for a major brand today, but it's not a huge issue for you at the moment. After scanning the page for a minute or two, you spot the customer portal login link as part of a long list of text links in a relatively small font near the middle of the page. The font size is not friendly to over-40 eyes, but it wasn't too terribly difficult to find the link despite that. You click the link and get a login page. You've never logged in before, though, so you have no idea what your username and password are. Were they pre-assigned to you? Are you supposed to create a login? It's not clear, and you begin to get mildly frustrated.
There are a few points of friction that the customer encounters before he even logs into the customer portal. He should not have had to change devices to be able to see the company's main page; redesigning the site as responsive and mobile-friendly is a given in 2015, and it's a little embarrassing for a major brand to have a consumer portal that's not mobile friendly at this point. And hiding a critical journey among a list of tiny text links is not helpful either, but the customer didn't get frustrated until he couldn't figure out how to activate his account online. Always design your customer communications – whether they are print, digital, telecoms or SMS – to address the "Three E's" of good customer experience (CX): they should be easy and effective in order to produce positive emotions.
You search the Help section of the financial services web site and finally figure out how to register so you can access your account online. You follow the instructions, which seem to include more steps than should be strictly necessary, and you are rewarded with entry into the customer portal.
You're not a designer, but you can't help noticing right away that it seems like you've entered another company's site. The look and feel is totally different – even the company logo looks different – so you're a little thrown off at first. But it is the same company, and the navigation in this area is actually easier, so you carry on. You are able to see your balance immediately, and you're pleasantly surprised at how healthy it is. There are also a variety of personalized information tabs, like an account snapshot, an account history, and past statements. But that article you read this morning said that if you can, you should increase the amount you're saving now to the absolute maximum you're allowed. You want to learn more about that and make the appropriate changes to your account. You click the "Manage Investments" tab and get a text-heavy page that contains a long list of services and resources with PDF downloads that will presumably help you maximize your retirement savings. It's too much for you to absorb right now, though, and you have a meeting to get to in the city, so you bookmark the page and decide to look at it while you're on the train.
You've uncovered more CX gaps. Again, employ the Three E's of good CX. The new user login process can be made much easier and more effective with just a couple of tweaks to the UX, like an easy-to-spot "New User Registration" prompt on the regular login screen.
Another point of friction is the totally different look and feel of the portal versus the company's main site. This has both subtle and overt effects on the user's perception of the brand and the services they're getting from the organization. Conveying inconsistency is never positive for CX. The portal feels like a different site because it essentially is. It's being run by an entirely different business unit from the main site, using different standards and different data, and it's common in such circumstances for there to be branding inconsistencies, navigational differences, and completely disparate layouts – even from screen to screen. Of course there are; the systems are completely isolated from each other within the financial services company's organization.
The solution there is to implement compatible web content management (WCM) at the core of both systems. They should use the same open standards (HTML5, CSS3, etc.) and share brand assets, layouts, and language across the enterprise.
Once you're settled on the train, you log into your financial services portal on your smartphone and open the page you were on before, which is about opening a brokerage account. You read through the page, learning a great deal, but you soon realize the forms you need to complete are apparently PDFs, which you can't fill out and submit using your phone, so you give up on the process for now. Oh, well.
The customer had to abandon the journey without completing it because the financial services company failed to deliver "digital-first" contextual communications that are available across all channels. Whether the customer wanted to download the information as PDFs; view the information live on a desktop computer, tablet or smartphone; have it mailed to him; or have it texted to him as a link to a web page, you need to anticipate that and provide the information where he needs it, when he wants it, in the format he desires, through the channel he chooses. Always be customer-centric in your customer communications management (CCM), and your CX will improve by default.
The Takeaway
Delivering great CX in just this one critical customer journey can really improve this financial services company's customer satisfaction, revenue from referrals and customer lifetime value. The good news is, many of the issues this hypothetical customer experienced during this critical journey can be resolved with improved technology and UX design.
Topdown is working on a technology solution that will address many of the CX gaps described above. The software will combine the best parts of customer communications management (e.g., data handling, personalization and automation) with digital experience delivery technologies (e.g., web content management) and business process management for customer journeys that cross departmental boundaries. With such a solution, journeys like this one can become much more consistent and smooth on the customer's side for better CX and, potentially, a much better bottom line for the company.
Check out our latest On-Demand Webinar Managing Customer Communications Across the Entire Customer Journey: How to Become (and Stay) a Customer Experience Leader