From time to time, we are honored to have an industry luminary contribute a post to the Topdown blog. Today, we are thrilled to have Kaspar Roos, head of Aspire CCS, share some insights from a recent industry survey his team conducted on the transformation of customer communications management into customer experience management.
Aspire CCS, a customer communications management (CCM) consultancy firm, recently published the results of a multi-client business survey that provides an in-depth examination of the seismic shifts currently reshuffling the customer communications landscape.
The extensive report, entitled, "The State of CCM-to-CXM Transformation", traces the epicenter of the CCM market evolution to a fundamental shift in enterprise priorities.
Businesses are taking their focus off cost and risk reduction and instead strengthening efforts to increase business value. Consumer expectations of instant access to relevant, personalized information has made customer experience (CX) an increasingly important metric in customer communications. As the graphic illustrates below, Aspire's survey found that CX was the top priority for nearly two-thirds of the 512 businesses surveyed globally, outpacing all other customer communications concerns.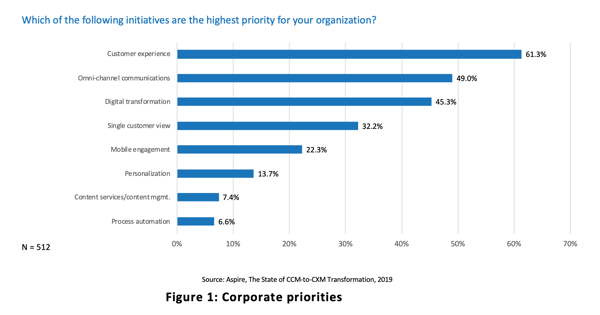 CCM vendors have begun to change their approach and embrace new technologies so that they can enable business users to improve CX for the end consumer. By doing so, they have effectively transformed CCM into Customer Experience Management (CXM): the practice of managing all interactions that a business conducts with its customers with the goal of improving the perception that customers have about that business.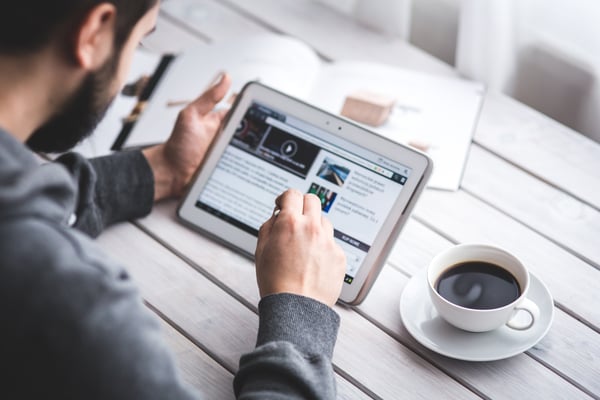 Move from creating a communication to crafting an experience.
Enterprise transformation from a CCM to a CXM requires a new mindset: organizations not only need to direct technology investment towards a better understanding of customer behavior and seamlessly interacting with them across every device and channel; it also demands organizational changes to break down silo walls and improve coordination and collaboration, thereby developing more agile and automated processes. As a core principle, CXM strategy positions customers front and center: using data analysis to understand their needs; knowing their communication preferences; and anticipating their behavior to look holistically across all touchpoints and channels to intuit where the experience is broken or can be improved.
The benefits that an enterprise hopes to secure by investing in CCM software can tell us a great deal about their place on the CCM-to-CXM evolutionary scale. Enterprises who have embraced a transformative strategy centered on customer interactions were much more likely to report that their CCM investments are motivated by efforts to increase customer satisfaction and up-sell/cross-sell opportunities. Meanwhile, those with no strategy or only a rudimentary one remained focused on shortsighted gains like cost savings and risk reduction.
Enterprises that are looking to increase the effectiveness of their communications should therefore take a moment to ask themselves the following questions:
Is your organization able to provide a 360-degree view of the customers and control communications with them at every point of the customer lifecycle?
Are call center agents able to track, retrieve, and review all of these messages, including marketing, compliance and service communications?
Is there a centralized coordination between all of the organizational entities that create, produce, and manage communications?
Is your business using modern technology that allows you to communicate with customers according to their preference? (Many organizations still rely on document-centric processes and are unable to provide customers the truly omni-channel experience they demand.)
Aspire has found that organizations investing in CCM, in an effort to drive better customer experiences, grow revenues 41% faster as opposed to organizations that invest in CCM as a means to simply meet compliance goals or to reduce IT costs.
Are You Ready?
Get in touch with Aspire if you need help successfully navigating the CCM to CXM transformation. And if you want more insights like this, then subscribe to the Topdown blog.
Photo: Pexels (no longer available)