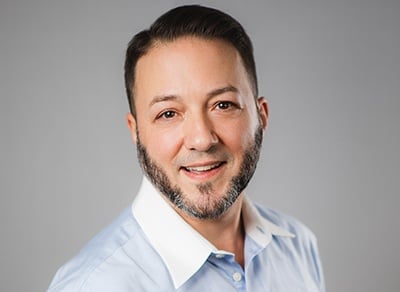 First Completely New CCM Solution in Years
Topdown has been in the business of customer communications management (CCM) for over 36 years, so we've been here for every major development in CCM from the very beginning. You can believe us when we say that INTOUCH® is a real game-changer in this space. There's nothing else like it in the world of CCM. Here's why.
A Lot of Research and Planning Went into INTOUCH
We first identified the market requirements for a complete, closed-loop, integrated digital experience architecture in early 2012. That same year, we recognized the need for a cutting-edge, seamless user experience — so we engaged an outside UX firm to help us design it. The firm also helped us gather requirements from our existing customers as part of the first incarnation of our focus group. The fruits of this collaboration first appeared in early 2013 with the initial concepts for a dashboard and a new take on interactive CCM.
---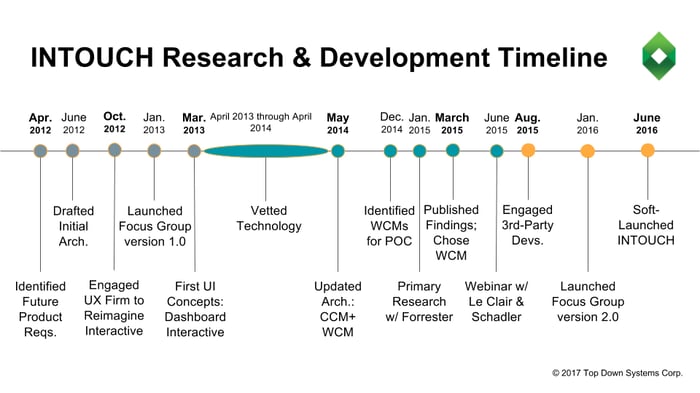 ---
We then embarked upon a year-long odyssey of vetting technologies to form the base of the new product. When we realized we were going to have to integrate with a web content management system (WCM), we updated our architecture, evaluated several candidates and ultimately chose the HIPPO CMS for our initial integration.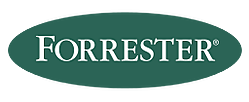 Around that same time, we commissioned some primary research to validate combining CCM and WCM technologies. The results clearly showed us that the market wanted to integrate CCM and WCM as well as the anticipated business benefits. We published the findings in March and did a webinar in June of 2015 with Forrester to discuss managing customer communications across customer journeys.
With the research and proof-of-concept development completed, it was time to start building the new software. We had started out thinking of the project as a new iteration of CLIENT LETTER®, but we very quickly realized that, despite CLIENT LETTER's solid foundation and eminent suitableness for today's on-premise CCM needs, it wasn't possible to get where we needed to be from where we had been. We were going to need a completely new architecture, designed for where the market will be in 2020 — a cloud-based, fully integrated, omni-channel, intelligent part of enterprise digital experience management.
Knowing we needed a completely new cutting-edge solution, and wanting to move quickly, we brought in some outside development resources to help us develop new code using microservices and containers. Once we had some of the core code and UI developed, we relaunched our focus group in January of 2016. This time, we integrated them directly into our agile development process, first presenting UI sketches for feedback, then coding the related functionality, and then representing the working product for feedback. Feeling confident, we published a blog post last January announcing our intent to release a new product based on cutting-edge technologies.
In June of 2016, we "tested the water" and presented a webinar with XPLOR on the concept of connecting CCM to Customer Experience, where we showed the relationships between the two, underscored the necessity of sharing content and data across the digital experience architecture (including marketing, sales and service applications), and we did the first public demonstration of INTOUCH.
Validation from Leading Analysts and Research
In recently published research, Gartner identified "fundamental shifts in the market" when it comes to the "distributed and diverse nature of content." The same research included an update to Gartner's definition of ECM, which reflects the emergence of services, microservices, common APIs and shared repositories: "ECM is a set of services and microservices, embodied either as an integrated product suite or as separate applications that share common APIs and repositories, to exploit diverse content types and serve multiple constituencies and numerous use cases across an organization."

In other recent research, Gartner reported that, while "contextually relevant customer communications help to improve customer acquisition and retention...many organizations take a fragmented, and therefore ineffective, approach to customer communications and interactions." In that research, analysts advised practitioners to "deepen customers' engagement and loyalty," "emphasize consistent and relevant customer communications across all channels and the customer's life time journey," and "optimize customer communications for digital channels."
To accomplish this, Gartner recommends identifying "the various new ways in which CCM and WCM solutions can be deployed." We couldn't agree with them more about the direction of ECM, CCM and WCM. And we know we're on the right track since Gartner mentioned us in the most recent Magic Quadrant for Customer Communications Management Software.
In a Nutshell
With an all-new approach to data and content management and sharing, security and compliance in the cloud, ultra-smooth user experience, digital-first document design, etc. — all built with the very latest technologies — INTOUCH truly is the most future-friendly CCM solution available. It's not just the technologies, though; it's the overall approach. INTOUCH is built to be part of a larger customer experience architecture, not to sit in its own little silo like CCM has traditionally done. Welcome to the future of CCM.
Want to follow along as we roll out INTOUCH and continue to reveal its cutting-edge capabilities? Be sure to subscribe to our blog.
About John Zimmerer
John Zimmerer is the senior director of marketing at Topdown, where he leads market research and outreach efforts for the company's customer communications and customer experience products. Most recently, John has been researching and writing about the future direction of the technologies that power customer experience, and is regarded as a thought leader in this area. John has nearly 20 years of software product marketing experience. His areas of expertise include market research, analyst relations, public relations and digital marketing.