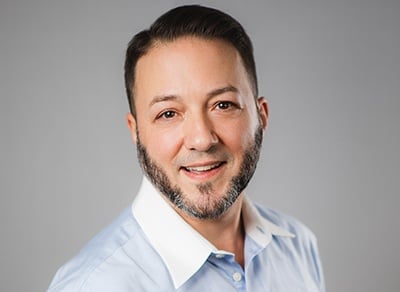 CCM: A Critical Part of Your Digital Customer Experience Architecture
The level of quality, consistency, contextualization and personalization of your customer-facing communications can have a dramatic effect on customer experience – as evidenced by the brands that improved their Forrester Customer Experience Index scores the most.
Forrester developed the Customer Experience Index (sometimes called the CXi or, more recently, CX Index) as a way to measure and quantify 25 different drivers of customer experience across 18 different industries. In fact, Forrester can tell you exactly how much each point on their CX is worth to a company in your industry (see figure below).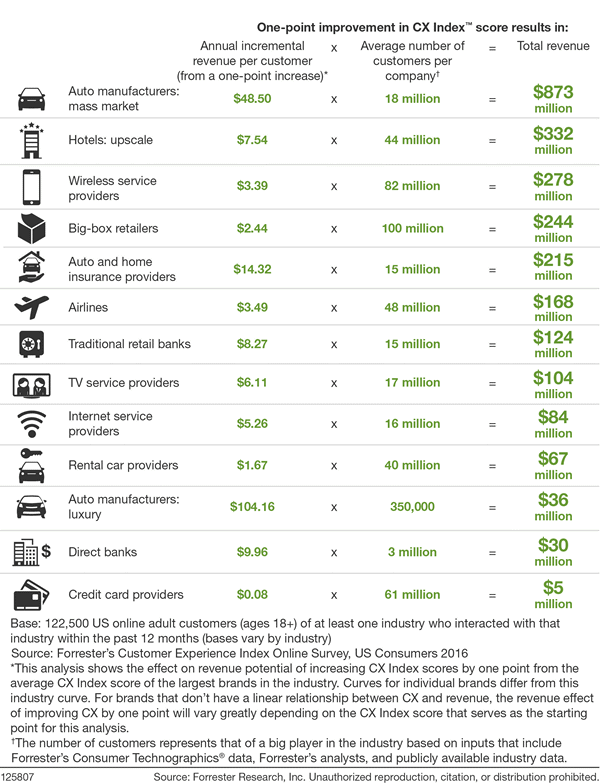 This, in a nutshell, is why senior leadership cares so much about customer experience. It comes down to revenue retention and growth.
If your company has already prioritized CX improvement, then you have probably spent quite a bit of time and effort to understand your customers' journeys. You've likely analyzed their pain points and now have a pretty good understanding of your brand's relationship with them. If so, that's great, and it's what you should be doing to remain competitive. Have you taken it to the next step, though, and used those customer journey analyses to help you plan a digital experience delivery technology architecture that will serve customers' needs throughout their complete lifecycle with your brand, and be able to continue to do so well into the future?
Customer Communications Are Part of Every Customer Journey
Think about all the touchpoints your company has with your customers. When and why are they interacting with you, through what channels, with what goals and outcomes? What software are you using to serve each touchpoint and channel? Chances are you have software suites serving marketing, like email marketing automation, social media dashboards, and digital asset management (DAM) systems. You very likely also have technologies to help you provide ongoing customer service, perhaps including call center management systems, a customer self-service web portal and a customer relationship management (CRM) system. And you probably have still more applications for ecommerce, like product information management (PIM) systems, site search capabilities, and billing and payment services. But what about customer communications management (CCM)?
It's important to understand that the large enterprise software portfolios we call digital customer experience (DX) platforms (like those offered by Salesforce, Adobe and Oracle) aren't one-size-fits-all solutions. They're really more like frameworks that provide many of the pieces enterprises need to manage customer experience through digital channels. Every organization will still need to customize and balance their CX management technology architecture by integrating other solutions that address weaknesses and gaps in the off-the-shelf DX platforms they adopt. And it turns out that customer communications management software, which serves customers at multiple touchpoints throughout the customer lifecycle, is a glaring omission from most of the leading DX platforms on the market today.
The Need for Consistent Communications across Customer Journeys
Remember, the goal of great CX is to deliver a consistent, positive, personalized customer experience across any and all channels and touchpoints, including giving balanced attention and resources to customer service and commerce as well as marketing. Research from the analyst firms mentioned earlier clearly indicates that the level of quality, consistency, contextualization and personalization of your customer-facing communications can have a dramatic effect on customer experience — as evidenced by the brands that improved their Forrester Customer Experience Index (CXi) scores the most.
As CX leaders demonstrate through their increased CX scores and revenue, brand consistency is no longer a nice-to-have. It's required. If the look and feel across your digital delivery platform are different — with varying layouts, inconsistent styles, etc. — then you risk looking unprofessional or lacking attention to detail. And if your attention to your brand seems shoddy, what does that say about your products and services?
To achieve consistency, you need digital experience delivery technologies that can all draw upon the same assets, including reusable objects, layouts and style sheets. It's about creating consistent-looking (in terms of structure and styles) and -sounding (in terms of content and tone) communications across customer journeys.
CCM's Place in Digital Experience Architecture
Because of this clear need for data, asset and content sharing and smooth interoperability among DX applications, it's time to change how we think about the role of CCM in enterprise architecture. We have to get it out of the operational silo where it has traditionally lived and stop thinking of it as merely a cost center. It needs to take its place as a vital part of customer experience management, not a bolt-on or afterthought to the DX platform.
What almost everyone has overlooked is that the inherent strengths of CCM — deep personalization capabilities, cross-functional data and content sharing, tracking/auditing, and more — can make it a centerpiece of customer experience delivery. At the least, it deserves equal citizenship in the DX architecture. The only reason it isn't there is because CCM came from the world of batch-oriented print-and-mail workflows and operational thinking. But now that CCM vendors are serving omni-channel customer communications needs, we are adapting very quickly to the needs of a digital-first world. Some vendors (and practitioners) are doing better than others, and it all comes down to who is really putting the customer at the center of customer communications.
Early on in Topdown's evolution to the customer experience mindset and digital experience architecture, we'd incorporated future-friendly features like channel-independent file formats, reusable blocks of content, contextualization based on data, real-time communications generation, and deep tracking and auditing capabilities into our CCM solutions. But we're continuing to watch trends and respond to our customers' changing needs, like the mass movement to the cloud, the drive toward interconnectedness, and the deeper fusion of microservices-based software into a true platform — which will inevitably bring CCM fully into the DX platforms of the future.
Want to learn more about how integrated, cloud-based CCM software can become a central piece of your DX delivery architecture? Subscribe to our blog.